Местные речные type, 681 design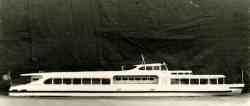 Проект водомётного судна был разработан Горьковским конструкторским бюро МРФ.
Разряд речного регистра: "Л"
Длина габаритная: 25,06 м
Ширина габаритная: 4 м
Осадка расчетная: 0,5 м
Скорость: 18,4 км/ч
Количество пассажирских мест: 65
Экипаж: 4 чел.
Мощность: 150 л.с.
Table of vessels of project
There is no any vessel of this project.